Creating Community With Musical Arts
---
Suzannah Doyle is an experienced composer, performer, and on-the-spot songwriter who has performed professionally since her teen years, reveling in songs from the 1890s to modern day tunes. A multi-instrumentalist, Suz's original music can be heard in productions world-wide (and in two stage musicals).
She played by invitation at the White House in Washington, D.C., and appears live and on dozens of albums with a diverse array of performers in multiple genres. Suz is a founding member of the Wallop Sisters (ukulele group), and writes medleys and musical comedy sketches galore (see her "Just for Fun" page for her video medleys about Quarantines and Covid Christmases).
She co-hosts the monthly Corvallis Ukulele Cabaret community Singalongs, and above all, loves how music brings people together in connection, community, and joy.
Suz has been composing music professionally since 1996, and is affiliated with ASCAP and Taxi A & R. Her multi-era genre-juggling composing runs the gamut from quirky to reflective, and everything in-between.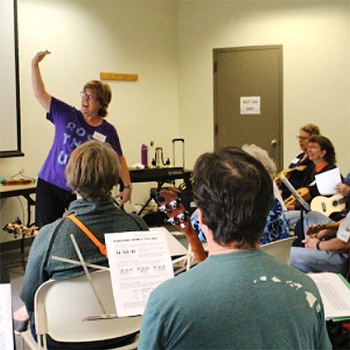 Suz's multi-faceted teaching style supports the unique musical journeys of her students, exploring many ways to "speak" the language of music.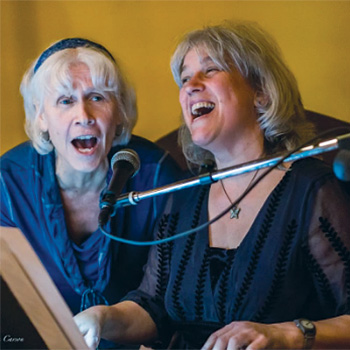 A multi-instrumentalist, Suz works, plays, and performs with and for groups of all sizes, from intimate gatherings to classrooms, concert halls and major whoop-di-dos. 
---
COMING UP SOON!
The Wallop Sisters and Friends will appear live in concert
at the Best Cellar on Friday, March 31, 2023, performing
ukulele and harmony-filled originals and covers of novelty
songs through the ages, from the 1920s to modern times.
Wallop Sisters Suz Doyle (piano, uke and vocals), Jeanne
Holmes (uke, xylophone, and vocals) will be joined by
John Swanson (vocals), Niels Nielsen (bass and vocals),
and Karen Sikich on guitar and vocals.
The show begins at 7:30 with an opening set by acoustic
finger-style, slide, blues and ragtime guitarist, Adam
Scramstad. The Wallop Sisters and Friends take to the
mics at 8:30, bringing their special brand of musical fun to
the Best Cellar stage. The Best Cellar performances are held in the main sanctuary of the United Methodist Church at 1165 NW Monroe, in Corvallis, Oregon. Admission is $2-10 sliding scale, and all ages are welcome.
---
---