---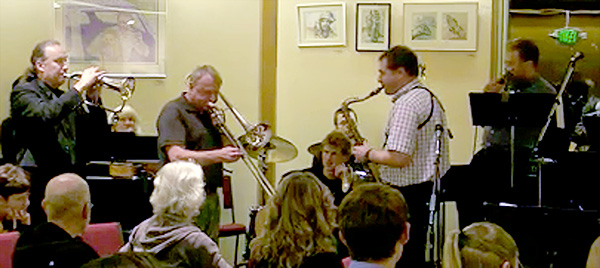 Suzannah has been a music director for variety shows, churches, community choirs and other musical happenings. She's managed large scale community projects such as the da Vinci Days Labyrinth, the Season for Non-Violence concert series, visits by Tibetan Monks, and a Mindful Millennium celebration.
She's been a judge for a county "Teen Idol" contest, for the South Town Open Mic talent search competitions (at Fireworks restaurant and the Majestic Theatre), and for a songwriting contest sponsored by Gracewinds Music. Here's a smattering below of some of her music directing and project directing experience.
---
BEATLESFEST 2018 & 2023
In addition to performing in the event, Suz also directed and was accompanist for group numbers and multiple bands for Beatlesfest 2018 (a part of the Best Cellar Concert Series in Corvallis, Oregon) and did so again for the 2023 post-pandemic concert as well. She created arrangements of the group finale numbers and rehearsed the singers and instrumentalists.
This popular celebration of Beatles music has been a mainstay of the Corvallis Music scene since 1982, and is a fundraiser for the Corvallis/ Uzhhorod Sister Cities Project.
---
MAJESTIC THEATRE YEARLY FOLLIES
From 1994 to 2002, Suzannah was the music director for the annual fundraising variety shows at the Majestic theatre in Corvallis, Oregon. The vaudeville style show included all styles of music, skits, comedians and a bevy of other talents.
Suz accompanied everyone from an Elvis impersonator to the Backstrain Boys (Suz's geriatric version of the Backstreet Boys' song, "I Want it That Way"), put together 50s medleys, wrote parodies, arranged vocal & band parts, and led the band (piano, guitar, bass, drums, woodwinds).
---
UNITY CHURCH OF CORVALLIS
From 1998-2001, Suz provided music for Sunday services and special events with Soulstice, a 4-part harmony inspirational singing group. She also brought in a diverse group of guest musicians, from Zen Sakuhachi players, to marimba bands, Sitar players, blues guitarists and barbershop quartets. She had the pleasure of sitting in with New Age singer/ composer Anton Mizerak on his Sanskrit chant "Tara Mantra," and with Neil Bjorklund of Flying Canoe on his masterful a capella piece "To The Water." She also directed a 25-person Unity choir in such pieces as "Imagine" by Lennon, and in a wild version of "John the Revelator" ala The Blues Brothers.
---
TAIZE' / LABYRINTH WALKS
Taizé singing is simple devotional chanting, based on an ecumenical tradition from France. A labyrinth is a single circuit winding path used for thousands of years by diverse cultures worldwide for walking meditation, personal reflection, or religious pilgrimage. Combining and updating these ideas, Suz (with Labyrinth facilitator Andy Andrews and Taize' cantor Lyle Kesecker-Dotson) offered seasonal Taize labyrinth walks (sponsored by Unity of Corvallis) in an inclusive, contemporary style. Using chants from diverse cultures and traditions and original compositions, Suz invited labyrinth walkers to experience the powerful contemplative experience of the labyrinth in whatever way best supported them. Participants felt safe and nurtured, bathed in sound and enveloped in welcoming music that is easy to sing along with or that can simply be enjoyed listening to while walking the labyrinth or sitting in silent reflection.
---
UNITARIAN UNIVERSALIST FELLOWSHIP OF CORVALLIS
Suz served as interim music director for the UUFC in 1995, and provided music for some of their yearly women's retreat and special events. She created the famous "Face to Face Money Grubbing Pledge Drive Medley", provided solo piano music for various events over the years, coordinated guest musicians, and led spontaneous singalongs at many gatherings for the community.
---
DAVINCI DAYS LABYRINTH
A celebration of arts, science and technology at the yearly da Vinci Days festival in Corvallis draws over 12,000 visitors. With the help of hundreds of volunteers, Suz and Earthen art sculptor Kiko Denzer created a 3-dimensional man in the maze labyrinth out of 1,000 saplings, wattle, cobb and lots of bamboo and mud. Over 12,000 people walked the labyrinth, decorated it with mud sculptures as the festival progressed, and wrote down comments about what their labyrinth experience was like. The festival officially opened with Suz directing a local choir created especially for the event (with drummers, too); they performed "The Labyrinth," an original choir piece by Suz Doyle and Nan Dudek.
"The labyrinth was the highlight of the festival!"–
— Victoria Fridley, Da Vinci Days Festival director
---
OTHER EVENTS For Which Suz Was a Project Manager / Music Director
Mindful Millennium • Season of Non-Violence Concert and events series • September 11, 2001 (same day) City-wide Inter-Denominational service and gathering at the Benton County Courthouse • Corvallis Community Choir • Ukulele Flash Mobs (various) at First Alternative Food Coop • Ukulele Singalong Group, 2018 Fourth of July Parade • Timberhill Intergenerational Easter Ice Cream Social (multiple years) • Corvallis Caring Place Snowflake Ball (singalong, yearly) • CARDV fundraiser concert • Cudo Investment Services Client Appreciation Events • Sweet Home Gala • Old Mill Center Open House • World AIDS Day (Old World Deli)